Date Published: 06/07/2021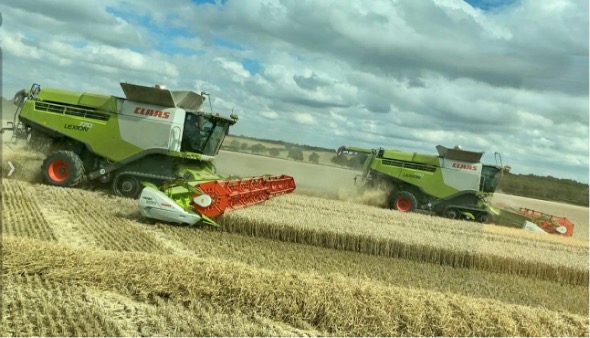 It's that time of the year again when Bedfordia's Arable and Grain Services teams start their preparations for the harvest. The full time crew have been busy cleaning, servicing and repairing our machinery and equipment and the summer support will be arriving over the next few weeks.
Throughout the year, our crops of Wheat, Barley, Oilseed Rape (OSR) and Beans have been carefully monitored to keep the plants healthy; to produce a high yield. Which means that by harvest time there is a lot invested in making sure the crops are successful and often with the weather being very unpredictable, this can be a very stressful period.
With thousands of hectares to harvest, planning is also essential to keep the operation running smoothly.  An outline map of what, where and when (weather permitting) is prepared that tries to match harvest needs to working within the local community. 
Health and Safety is understandably high on our list of important to-do's, not only for our team but also for the community, so we run multiple training sessions for our staff to ensure that they keep themselves, their colleagues and the public safe. 
Here are a few pointers foryouto consider during harvest:
Be mindful of the increased amount of traffic – our combines are large and slow-moving so watch out for them in country lanes and please be patient, we are trying to go as fast as we can and will pull over to let you through, if an opportunity presents itself. 
There will be tractors and trailers carting grain throughout the day (and sometimes the night), which may cause hold-ups, especially on the A6 when entering and exiting Milton Parc.
Please keep all gateways clear, so as not to block access.
Harvesting is a dusty business and will throw up a cloud of debris, please watch out for this and needless to say, it's not a great idea to put any washing out when we are combining in the vicinity!
When walking on a footpath, please keep a safe distance away from the combines and tractors, as with all the dust and noise, it can be difficult to see or hear people approaching on foot.  Always keep children away and dogs on leads.
A licence is required and permission needs to be granted to fly a drone over private land.  A drone might cause dangerous distractions when our team are operating heavy machinery or might even cause harm to the operator.
Here's to the weather being kind to us and it being a successful harvest.  We appreciate your patience and understanding at this time and will endeavour to keep the disruption down to a minimum.  If you have any concerns, please get in touch by emailinginfo(at)bedfordia.co.uk- thank you.