Date Published: 27/05/2021
On behalf of Bedford Borough Council: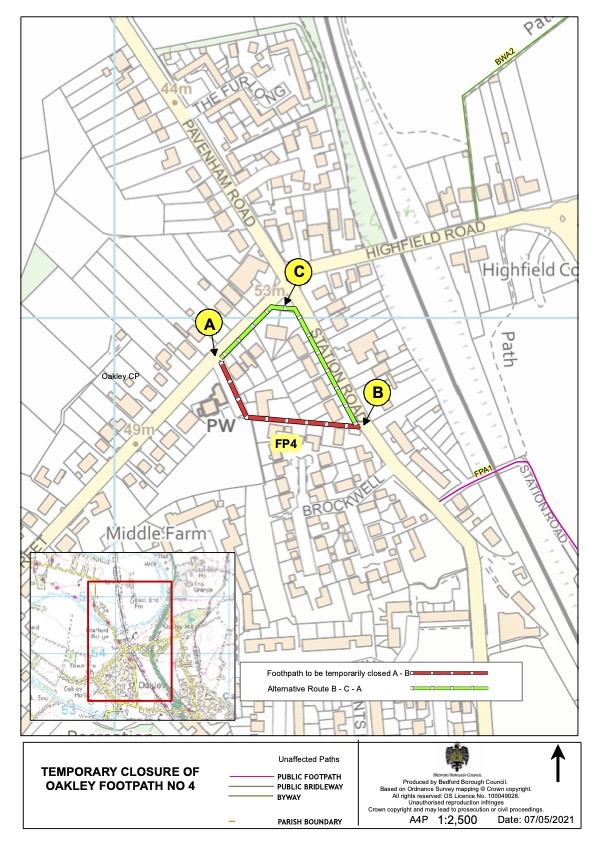 Notice is hereby given that the Bedford Borough Council have made an Order the effect of which will be to prohibit any person proceeding on foot along the length of public footpath No 4 Oakleywhich extends from Ordnance Survey Grid Reference OS GR TL 0109 5396 (Map point A) to OS GR TL 0121 5390 (Map point B) 
This temporary closure is required to enable a sewer connection to be carried out. The closure will take place from Monday 31st May 2021 for a period of six months.
The alternative routes for users while the closure is in operation will be to proceed from (OS GR) TL 0121 5390 (Map point B) in a northerly direction along Station Road to (OS GR) 0114 5400 (Map point C) then proceed along the High Street to (OS GR) 0109 5396 (Map point A)
The Order will come into operation on 31st May 2021  for a period not exceeding six months or until the works which it is proposed to carry out on or near to the footpath have been completed, whichever is the earlier. If the works are not completed within six months the Order may be extended for a longer period with the consent of the Secretary of State for Transport.
For further information please telephone Highways Helpdesk on (01234) 718003
Dated 27th May 2021