Date Published: 06/05/2022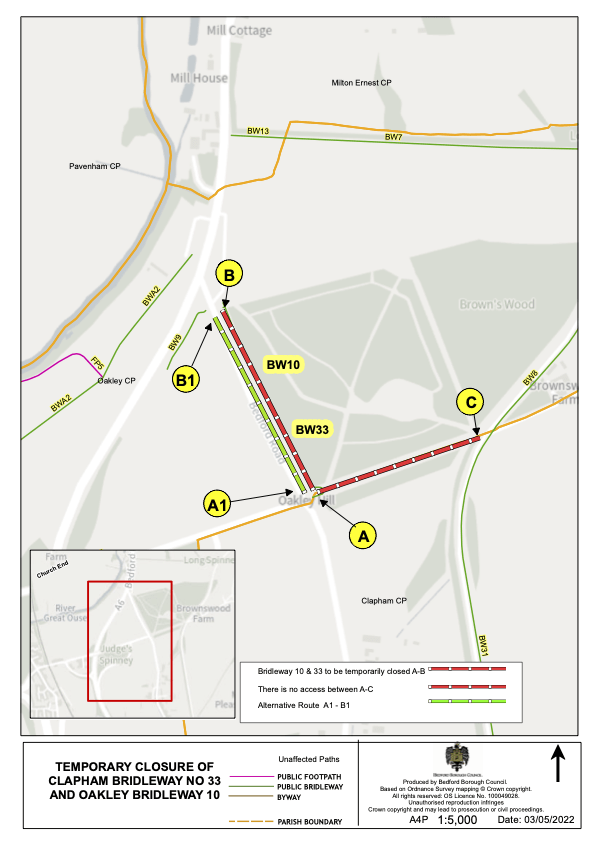 ROAD TRAFFIC REGULATION ACT 1984 - SECTION 14(1)
BEDFORD BOROUGH COUNCIL 
(CLAPHAM: BRIDLEWAY NO 33 AND OAKLEY BRIDLEWAY NO 10)
(TEMPORARY PROHIBITION OF THROUGH TRAFFIC) ORDER 2022
Notice is hereby given that Bedford Borough Council intend not less than seven days from the date of this Notice to make an Order the effect of which will be to prohibit any person proceeding on foot or on horseback or lead a horse or cycle along the length of Clapham: Bridleway No 33 Ordnance Survey Grid Reference (OS GR) TL 0211 5431 (Map point A) and OS GR TL 0213 5432 (Map point B) and also Oakley: Bridleway No 10 which extends from OS GR TL 0213 5432 (Map point B) north to (OS GR) TL 0195 5466 (Map point C).
This temporary closure is required for Anglian Water to carry out a water project
which is due to take place from Monday 23rd May 2022 and expected to be completed by Friday 1st July 2022
The alternative route for bridlewayusers while the closure is in operation will be to follow the  highway verge parallel to Bedford Road Oakley.
The proposed Order will come into operation on 23rd May 2022 for a period not exceeding  six months or until the works which it is proposed to carry out on or near to the bridleways have been completed, whichever is the earlier. If the works are not completed within six months the Order may be extended for a longer period with the consent of the Secretary of State for Transport.
For further information please telephone Chloe Etheridge (Anglian Water) on 07813 726320